Always keen to find new ways to relax on a weekend, I spent yesterday afternoon sprawled on the sofa watching the Lakeside World Darts Championships. Now, the last time I watched darts, back in the 1970s, it was a 'sport' populated by fat drunken men and the odd aesthetically -challenged woman. Good to see that little has changed, although the fat drunken men are no longer allowed to drink whilst on stage and there does appear to be a slight air of professionalism in a room otherwise full of lager-swilling darts fans (cut to a shot of a table full of young men, all brandishing bottles of Becks: "They're here for the day," the commentator informs us). There was a thrilling contest between 180-hurling maestro, sovereign ring-wearing Merv King - a man who you certainly wouldn't want to meet down a dark alley - and, as I seem to remember Ray French describing him, the "nobody" Paul Gibbs, who had to battle through to the televised rounds via the qualifiers. I kid you not that I actually got caught up in the drama of this mini-battle, as King's game went awry while Gibbs - who, we were reminded on several occasions, had a real job as a bricklayer - rose to the occasion. Eventually, and perhaps because he wore a silk shirt coated with sponsors as opposed to Gibbs, who was wearing something his wife had stuck some sequins on the back of, King's experience came to the fore. But there I was, as is the British wont, backing the underdog. Darts, and excuse me if I'm telling you something you know, now attempts to mirror the wild and crazy furore of the WWE. Each combatant has his own theme tune, which he or she menacingly strides towards the stage to. In the case of Martin Adams and Tony O'Shea, this meant dancing up to the oche in a very embarrassing fashion, as if each was trying to prove to the other that they were the worst mover in the history of televised sport. M pointed out
that all of the ashen-faced female players looked as if they smoked at least 60 cigarettes a minute and were more than "a bit rough" before adding, "perhaps that's the image they're trying to create". So much excitement, then, and it was only the first round. I'm not qualified to make a prediction as to the eventual winners but my money is on the younger breed of darts player, such as Jelle Klaasen or 17-year-old Michael van Gerwen, rather than one of the blokes with the bulbous red nose and facial skin riddled with burst blood vessels and, I hazard a guess, butch Soviet dartessa Anastasia Dobromyslova (pictured) will topple any woman that dares to hurl arrows in her company.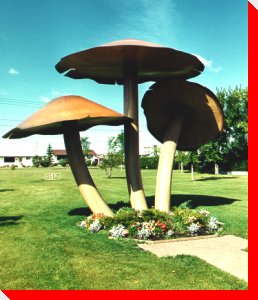 Being somewhat strapped for cash right now I couldn't wait to open The Guardian's guide to free stuff yesterday, only to find that, inside, it was suggested to me that a life of living for nowt involves "browsing books in a charity shop", picking mushrooms off the central reservation of a dual carriageway and going for a bike ride. Why would I browse books in a charity shop? Why wouldn't I do the same in Waterstones or Borders, where at least they have heating that works and a carpet on the floor? Stand-up Mark Watson also attempted to persuade me to appear at an open mic night, while elsewhere "looking at architecture", swapping my house for a different house and suggesting to a plumber that I write him a play about copper pipes while he service my boiler were all offered as alternatives to paying for things. What nonsense. I can't survive on a diet of roadside mushrooms, can I? At least I was pointed in one useful direction in the internet section and promptly downloaded a copy of chat client Trillian, which allows you to simultaneously login to AIM, ICQ, MSN and Yahoo and doesn't eat up anywhere near the amount of memory that other messenger clients do. Well worth The Guardian's cover price, that was. Although, picking up the freeloading baton, I will never buy said newspaper ever again and will only procure it in future by rummaging through dustbins. Or read it online.

Reading: Ryu Murakami - Piercing. Listening: Led Zeppelin - Remasters.