Clambered into the loft to get the Christmas tree. We appear to have thrown all of our tinsel and tree decorations away, probably at the time of the house move at the beginning of 2006 (I remember deliberately leaving lots of stuff we decided not to take in the shed, locking it and then, quite inexplicably in retrospect, throwing the key away. It was a rented property and I would like to take this opportunity to apologise to our landlord for any trouble I may have caused him. Now, can you apologise to us for the extortionate rent you charged us?). So, woo hoo, we shall have to buy some more decorations tomorrow. The tree, then, looks a tad bare. All the better for a kitten keen to scale those dizzy heights, I suppose, but we won't be impressing our neighbours.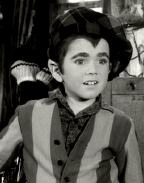 X-Factor (which we watched during the really boring bits of Strictly Come Dancing) is behind us, thank Beelzebub. Amusing OB from

some big hangar in London, which housed female finalist Leona Lewis's supporters and host Myleene Klass. Leona, predictably, unless you have an unnatural faith in little creepy stage school brats that look like Pugsley Addams (or do I mean Eddie Munster?)*, won the "million pound recording contract". Cut to the hangar, with people celebrating wildly (why?) and Myleene Klass, fighting her way into shot, saying, "People are literally going mental."

* Yes, I did mean Eddie Munster. I've not messed with that picture of Eddie in Photosphop, btw, before any Ray Quinn fans start accusing me of manipulating their hero's head. I shall leave all that to the likes of Simon Cowell. But isn't the similarity frighteningly uncanny?

Listening: Judy Garland - Cole Porter Medley / Puff Daddy feat Jimmy Page - Come With Me.